Night of Broken Glass
---
Manipulation and distortion: A historical critique on the historical account of Flamenco in Triana
---
Manuel Bohórquez SEVILLE / 07 APRIL 2017 / 21:29 – UPDATED: 07 APRIL 2017 / 21:29
---
At times I come across interviews on social media with the music producer Ricardo Pachón, during which he talks about what he calls "the 1957 expulsion of gypsies from Triana" in which he clearly manipulates history, no doubt to promote his documentary Triana pura y pura (translated as Triana through and through)1, which had great consequences, but also generated some controversy. I have talked on various occasions with gypsies who were living in Triana when the supposed expulsion – which the dance teacher Matilde Coral2 calls Night of broken glass, a good title for a film- took place and the people of Triana are enraged as Pachón's film clearly falsifies reality.
There was no expulsion of gypsies from Triana in 1957, only a relocation of certain poor families, both gypsy and non-gypsy, that lived in tenements (Figure 1) in very poor conditions, with rats scuttering around, communal toilets, and the grave danger that one day there would have been an irreparable tragedy, because these were slums that were falling to pieces. They were not gypsy tenements, as some call them, but communal houses in which there lived a mix of gypsies and non-gypsies, and in many cases, more gadjo3 than Romani4, however they lived in perfect harmony and demonstrated a high level of cohabitation and social integration.
A few days ago, a gypsy from Triana who lived there, the grandson of a well-known local singer and dancer, told me that on the day when the Seville council representative appeared at the Pistola tenement (Figure 2) to offer the residents the opportunity to move to some small houses in Polígono Sur or in San Pablo (Figure 3),the residents bid farewell to the council worker with resounding applause, some in tears, because they could start a new life that they had dreamed of for years.
It is probably true that there were families who did not want to leave but were forced to do so, because it is difficult to abandon the place where you were born or lived for years, but the majority celebrated the change and started to live in bungalows or flats that had several bedrooms, a kitchen, and a private bathroom. They did not stop being poor, it only changed one aspect of their lives.
There were more payos5 than gypsies living in the Pistola tenement. In other words, it was not only an expulsion of calés6 as Ricardo Pachón claims, but an expulsion of the poor. What is more, no such expulsion took place, at least not in the way Pachón outlined it. It is rather disgraceful to distort history in such a manner, and even more to insinuate that this was the death of flamenco in Triana, because there were many non-gypsy artists in this historic suburb, and the film is just another form of hackneyed manipulation.
Ricardo Pachón himself, at one time, declared that almost all styles of folk song as well as the majority of flamenco art figures originate from Triana, once again referring to gypsies, as always in his version of events. This is far from being the case, even though no one denies the importance of Triana in the development of flamenco and the creation of some styles of folk music or that in the 21st century there were two or three gypsy families, such as the Caganchos (Figure 4) and the Pelaos (Figure 5),in which there were no professional artists, but rather blacksmiths that sang in taverns and at family events. All of the main figures from that era came from outside of Triana: El Fillo and his brother Curro Pabla from San Fernando; La Andonda from Ronda; Frasco el Colorao from Puerta Real; El Planeta from Cádiz; Diego el Lebrijano from Lebrija. Other subsequent artists such as Fernando el de Triana, La Josefa and her son, the great flamenco dancer Faíco, his first cousin Mojigongo who was also a flamenco dancer, and a few more settled in Triana, but they were not locals, even though they were from the capital or the province of Seville.
The venerated saeta7 singer Finito de Triana (Figure 6) was not from the area either, however he lived there for many years and it was here that he died. He said in a Sevillian newspaper that in the suburb there were more flamenco singers who were payos8rather than gypsies, of whom no nobody talked about. Reffering to artists such as Pancho, Garfias, Naranjito el Viejo, Manuel Lorente, Emilio Abadía, el Niño de Triana, Pepe Segundo, Manuel Oliver and others, which barely appear in the studies of flamenco experts. Demófilo9 was only interested in calés10 singers of flamenco, and this was left clear in his Collection of flamenco Songs, a book edited in 1881, at a time during which there were barely any professional figures.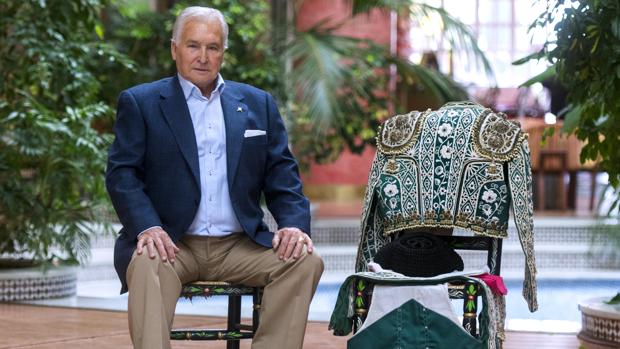 There was no expulsion of the poor from the Alameda de Hércules, Feria, Macarena, San Román or San Roque (Figure 7), and there no longer exists the flamenco atmosphere that was present in these neighbourhoods of Seville from the 19th century to the 1960's. Why don't flamenco figures from these neighbourhoods appear if there were so many of them in that century? For the same reason as in Triana, because the breeding ground of that time, that 'leavening' that Antonio Mairena11 talked about, did not exist in Barrio de la Viña in Cádiz, El Puerto de Santa María, San Fernando, Sacromonte in Granada or El Perchel in Malaga.
According to Pachón the gypsies of Triana, referring to all of them as there were many gypsies in the 1950's, were forcefully expelled. Or was it only the poor and the disadvantaged families? If it was due to racism, as noted by Pachón, why did many gypsies continue to live in the neighbourhood? And why did some people, who were expelled but ended up better of economically, not move back to live in these good homes that were created due to urban speculation, as initially understood to be the true motive for the expulsion, as according to Pachón?
I am thoroughly convinced that if so many gypsies and non gypsy families of Triana had not to move out, the neighbourhood would have continued to be a talent pool of flamenco singers. However, this is only one factor, and yet another one is that this event that happened sixty years ago, was similar to the Great Gypsy Round-up of 174912 which was the result of a very racist and fascist governor, as well as the broken glass that Matilda Coral (Figure 8) witnessed.
---